Enjoy a magical Christmas at The Richard Onslow – whether it's for friends, family or colleagues.
If you're planning a sit down meal, of course we've got turkey – and it's a top quality free-range bird from Royal Warrant holders Aubrey Allen. If you're looking for something different, then we can help there too!
To find out what events we have planned this Yuletide, including our New Year's Eve plans, please see our calendar above our Christmas menu.
We aren't open on Christmas Day. We believe everyone should have the day off to stuff themselves with turkey and then gently nod off in front of the fire.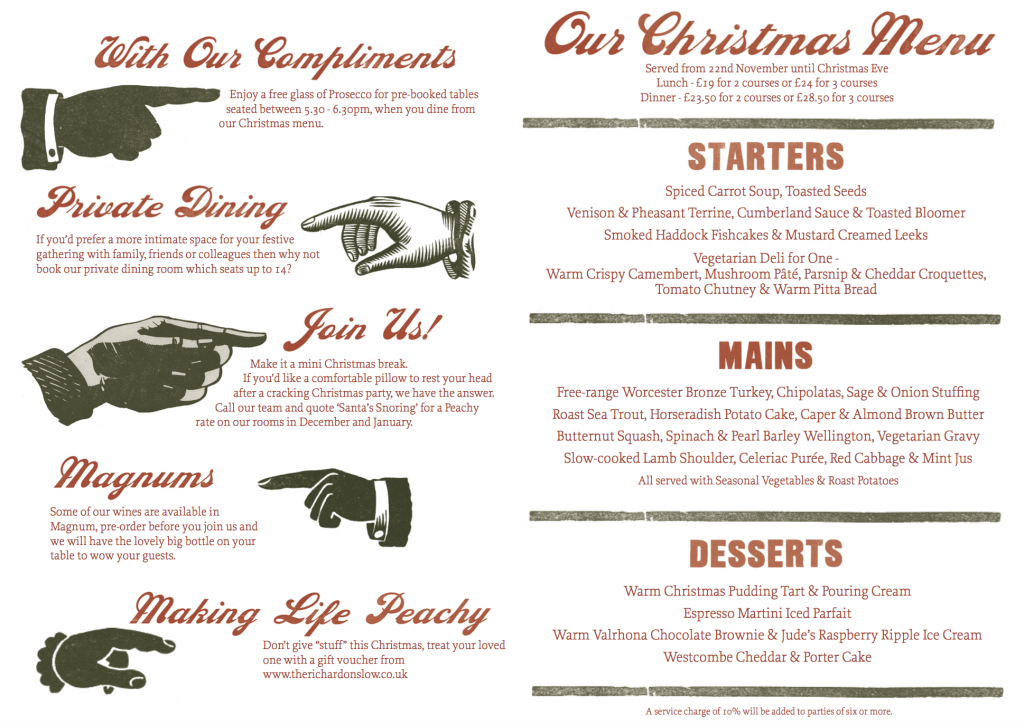 Credit Card Guarantee/ Cancellation Policy
We will collect your credit card details and store them in our secure electronic credit card vault. No charge will be made at time of booking or without contacting you.
In the unfortunate event you need to cancel your reservation please tell us by email (christmasrichardonslow@peachpubs.com) or in writing as soon as possible. Please be aware we require a minimum of 48 hours' notice of any cancellation. For cancellations of less than 48 hours of the party date, £10 per person will be charged to the card details given.
Gluten free? 
We can adapt our menu to suit any dietary needs, just inform us in advance on your pre-order form. Here are our gluten free dishes –
Spiced Carrot Soup & Toasted Seeds, Gluten Free Bread
Venison & Pheasant Terrine, Cumberland Sauce & Gluten Free Bread
Pan Fried Smoked Haddock Fishcakes & Mustard Creamed Leeks
—
Free-range Worcester Bronze Turkey
Slow-cooked Lamb Shoulder, Celeriac Purée, Braised Red Cabbage & Mint Jus
Roast Sea Trout, Horseradish Potato Cake, Caper & Almond Brown Butter
—
Espresso Martini Iced Parfait
Warm Valrhona Chocolate Brownie & Jude's Raspberry Ripple Ice Cream
Westcombe Cheddar & Gluten Free Bread