PEACH & OUR PUB
Peach is a collection of really great pubs, mainly in market towns in the heart of England. We serve good quality, fresh, honest food in relaxed, welcoming environments. Always with a kind word and a sense of fun. We have always been passionate about giving back and as we've developed and grown over the years, our ability and motivation to make the world a little better, a little peachier, has grown with us. The Bigger Peach shows our efforts to improve communities, equality in the workplace and the future sustainability of our world.
Sitting right on the High Street in Cranleigh, The Richard Onslow is a busy pub with great food, 10 beautiful bedrooms and is conveniently located near to Guildford. We have worked hard to retain the period features in this historic building and we hope that our modern and unfussy approach to decor, service and food will give you the perfect place to celebrate, spend time with friends or simply unwind with a coffee.
For things to do in the surrounding area click here or to read more about Cranleigh, please click here.
We look forward to seeing you soon!
Tom & the team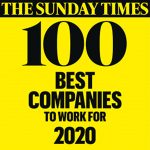 ---
Tom Tolhurst, General Manager
Tom is completely and utterly food fixated! And perhaps growing up in such a close nit foodie family in Brighton has something to do with that. Up to 15 of them would gather weekly at his Nan's and have dinner together. This obviously not only inspired him to be a great cook but his brother too, as they obsessively exchange photos of their latest creations. Starting off his career on the slopes in Canada as a restaurant supervisor at 18, Tom's sense of adventure allowed him to combine his passion for snow boarding with hospitality. He made sure he enjoyed every little bit of it before flying to France for a stint as a rep there. Everyone needs a bit of sun before home. Tom earned serious stripes when he worked his way up to General Manager at The Star, an 800 year old country Inn in Brighton, before hearing of Peach and moving to Cranleigh to join us as a Deputy. He's now been running the pub as one of our most excellent General Managers since January 2018 where he's developed a loyal and knowledgeable team. The pub has gone from strength to strength this year. Tom has an insatiable appetite for the business and when he's not working he's taking the team to London to seek out great pubs, tapas bars and restaurants, old and new, in order to keep inspired and ahead of the game. Under that warm friendly exterior is a industry expert, dedicated to perfection and he's not bad on the drums either…
---
Hugh Houston, Head Chef
Hugh was born in Jamaica but grew up in the States in a family of foodies. His Dad was Head Chef at a hospital, which spiked his curiosity, and led him to do his catering internship in Estes Park in Colorado. Following his second passion, travel, Hugh found himself in the UK.  He started his professional kitchen career at the RAC Country Club in Epsom which he thoroughly enjoyed, but eventually had to scratch that London itch, and made the move to the big smoke to be trained by the very best.
This is where his talent really became apparent. It was while working for Head Chef Daniel Woodhouse at Roux Fine Dining that the extraordinary world of food was opened up to Hugh, and his skill set flew through the roof. Daniel eventually moved to Boulters, Maidenhead, where in 2014 he finally managed to convince Hugh to join him and the two of them achieved an incredible two AA Rosettes in just one year.
It was July 2018 that Peach took over Boulters and where we had the privilege of meeting Hugh, who agreed to stay on as our Head Chef and we're very lucky he did. It's clear it's not just his fabulous background that ensures his food is as good as it. Its Hugh's endless passion, exceptional presentation and natural talent that makes us confident that wherever he's cooking, its going to be outstanding.
We're ecstatic that in March 2019, he agreed to take on the kitchen at The Richard Onslow, and we're happy the residents of Cranleigh now get to sample his incredible creations – you lucky lot.
On top of all this, you'll not meet a nicer guy and his chilled approach certainly shows in his team and his food, so if you get the chance to meet the man behind the menu, don't miss that opportunity!
---
2020 – OUR TIME IN LOCKDOWN
As we entered lockdown, our first concern was everyone's wellbeing and their ability to support families in such unprecedented times. Peach have been great in helping our team, with access to our hardship fund, zoom quizzes, online DJ sessions and masses of social contact, keeping us all in touch. Some of the pubs helped with Your Hub, a Social Enterprise to support the local community. From feeding homeless, to Youth support centres, NHS call centres, hospitals and  care homes. Read more of what the Peach team have been up to here.
The Richard Onslow team certainly keep themselves busy during lockdown so I thought we'd share our lockdown stories.
It's been a long 12 weeks since we closed our doors at the start of lockdown, and even though we've had some good days and bad days, here's how the team have spent their time away from the pub.
Camilla and I have been spending the sunny days in the garden. Not only have I been working on an outdoor bar, but Camilla has been planting vegetables, we are already in abundance of lettuce! And of course, we've been taking Ralph for plenty of long walks.
Head Chef, Hugh, has taken up a new hobby, and learning how to golf, as well has serving up some masterpiece meals for his family, whilst our live in team have been sharing the cooking and perfecting their chef skills with some (mostly) delicious dishes.
Dave's been spending his time putting the finishing touches to his new house, he's even acquired a few new pets along the way too, and the rest of our team have been keeping themselves busy, finding new ways to stay in contact with family and friends. Lauren even started a Bingo Night with her family back in Ireland!
We can't wait to welcome you all back with a well deserved glass of something cold.