PLAN YOUR STAYCATION
The Richard Onslow can be found in the heart of Surrey in Cranleigh. No matter whether you are here to work, relax, study, eat, drink or be entertained, the village and surrounding area has lots to offer. Enjoy a day out to the beautiful Bombay Sapphire Gin Distillery in Whitchurch to see how your favourite gin is made. Why not also take a trip to Guildford Castle or Cranleigh Arts? The possibilities are endless. After, come and relax with us at the pub and enjoy a plate of something delicious before you rest your head. 
Bombay Sapphire Gin Distillery 

Uncover the secrets of this world-famous gin on the site of a historic paper mill in the Hampshire countryside. Learn about the rare production processes that go into the craft of making Bombay Sapphire gin, and discover the sustainable measures and ecology of the conservation area we call our home.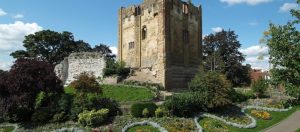 Thought to have been built shortly after the 1066 invasion of England by William the Conqueror. The Castles grounds are stunning and beautifully maintained.
Guildford's largest park, which has retained its Green Flag Award winning status this year, has plenty of beautiful open green space, a fully-equipped children's playground, skate park, paddling pool, boating pond and mini golf course.
Offering the best in live music, theatre, comedy, film, talks, event cinema, workshops, family events and free-to-explore exhibitions. From classical recitals to children's activities – the vibrant programme has something for all ages and tastes. The friendly gallery tea bar serves a delicious range of snacks, homemade cakes and refreshments throughout the day, and there is a fully licensed bar is open for many of the evening events.