Have you met Colin?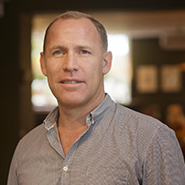 In case you hadn't noticed the new face around… let us introduce Colin, our new General Manager. 
1. What made you want to become a General Manager?
I've been in the industry for nearly 30 years, so it was a natural progression to move up to management, which I did at about 26.
2. If you're having a dinner party at home, what do you cook?
Normally Gill my wife would cook as she loves it…and is also way better than me. But I've got a few dishes that I can do for a special occasion – generally something with a Mediterranean or Italian feel.
3. If you got your dream job tomorrow, what would you be doing?
Classic car delivery driver!
4. Any front of house annoyances?
Annoyances are generally when you're short of team and so are rushed and not giving the best service.
5. What's your embarrassing work moment?
Has to be when you greet famous people as though you know them already rather than because they're famous…
6. What words of wisdom would you give any young manager starting out?
Get ready for some long hours and hard work, but enjoy it and make sure you take time off to relax.
7. What attracted you to The Richard Onslow?
It's a great opportunity and the Surrey countryside is definitely a bonus.
8. Anything you won't eat?
I can't stand coriander!
9. What's your biggest achievement?
Running one of the biggest bars in Switzerland and turning round the Star & Garter into a profitable business.
10. What makes you stay at Peach?
I don't think there's a better pub company in the country that lets you grow and gain partnership as well.