We only serve the good stuff..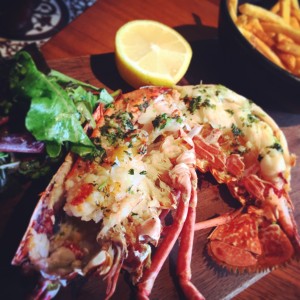 It's lobster season, and we're lucky to announce the arrival of fresh native lobster to The Richard Onslow, every Thursday, Friday and Saturday night. Our lobster comes from the famous village of Brixham, and Rob Adams, our lobster fisherman has over 30 years of fishing under his belt!  His small day-boat 'The Little Pearl' heads out to sea at the crack of dawn each morning, inspecting the lobster pots he has set on the sea bed a short distance from the shore. All catches are rushed back to shore and delivered to us the very next day.
Rob is a great believer of making sure lobster fishing remains sustainable, and is why he only picks the best lobsters that meet his high standards. The meat is packed full of flavour in comparison to their Canadian counterparts, and arriving fresh really is what makes British seafood the best.
We started the season with a classic lobster thermidor and skinny fries last week, it was a real catch! Each weekend you can expect a different recipe, from Lobster, Pink Grapefruit & Avocado Salad to Butter-poached Lobster, New Potatoes & Samphire and Grilled Lobster, Garlic Butter & Fries.
We can't wait to hear what you think, be sure to book a table before the month's out.