Let's Talk About Gin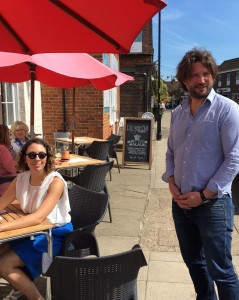 Most people know I'm not shy if offered a beverage or two, and when JT comes in with an exclusive bottle of Pink Grapefruit Gin from Chase, paired with a sunny Monday, you know you're in for a pretty good day. This special surprise, from a recent private tour, got me thinking about our unusual Gins and why all of you locals love it so much.
We have a brand new Drinks List, which, for the first time, sees a combination of our Wines and Cocktails. As well as our Mojitos and Espresso Martinis, the thing that's really exciting us is our Grand Gins, with the addition of Gin Mare and Gin Lane on the new list. We've thrown ourselves into the Great Garnish Debate, with a supply of Pink Grapefruit, Raspberries and much more, so you can now pick what works best with your favourite Gin.
With all this Gin talk, I thought it was about time I gave you the low down on what gins we have to offer, and why you all love them as much as you do.
Our most local on offer, this couldn't come from a much closer location. Distilled in Albury (7.5miles away), where some fantastic Wine is grown, their master distiller, Cory Mason, lays claim to this signature product. "It's a classic Gin at heart, full-bodied and fresh, with depth, clarity and flavour. Produced with 24 unique botanicals, it's a rich and clean Juniper-driven spirit with floral layers of Lavender and Chamomile. Fresh notes of Citrus and Kaffir Lime are grounded with the subtle sweetness of local honey, creating a well-balanced gin that is both traditional and refreshingly individual." In other words, paired with fresh Lime and a really good Tonic, it doesn't get more classic than this, and Surrey can lay claim to it. (Talk to Camilla about her favourite!)
Gin Mare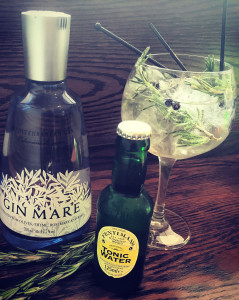 Our only exotic Gin on offer, this Mediterranean number is from sunny Barcelona, and boasts flavours of sunshine and tapas. Made in a custom-designed still, blending Olives, Thyme, Rosemary, Basil, Cardamom, Coriander & Juniper Berries, gathered from their own farms, Gin Mare really is Spain a bottle. Soaked in advance for more than a year in large clay jars, the floral, herbaceous aromas take you straight to the Chiringuitos' of Barcelona beach front. Drop some rosemary and tonic in, and you've got yourself a holiday in a glass. (Talk to Jack about his favourite!)
Probably most of the teams favourite, this intense berry Gin is lethal. Taking the lid off and having a good whiff, you could easily be forgiven for confusing this for a liqueur, but this London-based Gin is distilled with Junipers, Blackberries, Blueberries, Liquorice, Orange Peel and Almonds, making a dangerously deceptive spirit. Garnished with Raspberries & Strawberries, this sneaky number is actually perfectly paired with Ginger Ale, and really should be enjoyed sat out in the sunshine conveying Cranleigh. You will have to come and get this before the team drink me out of it. (You can talk to most of the team about this one, but Lauren will rave like a lunatic about this favourite of hers!)
Having eight generations of distilling experience, Whitley Neill has been knocking about since 1762. Inspired by the African spirit, you'll find notes of fresh Citrus Baobab fruits and aromatic ape Gooseberries, and this dream is made in small batches for a more intense flavour. Johnny Neill is the last in a long line of distillers based in Liverpool, so even though the Scousers might not be able to play football, they certainly can make a decent Gin. Throw in some Orange and your Tonic and you've got yourself a Cape Town escape. (Talk to Ty about his pairing choices)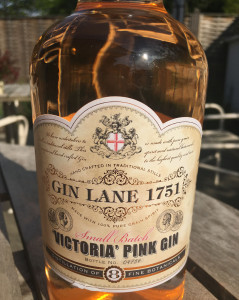 Gin Lane 1751's small batch 8 botanical distillation is the only coloured gin we have, having been infused with a natural Herb & Spiced Bitter for a truly aromatic flavour. Clapham's handcrafted 100% grain spirit was first created by members of the Royal Navy to balance out dry and sweet Gins, and contains flavours of Sicilian Lemon, Coriander, Seville Orange & Star Anise, as well as the aromas from the bitters. Charles Maxwell, the 8th generation distiller, pairs it with Pink Grapefruit, though we would recommend a dash of elderflower to take away the bitter juniper flavour. (Chat to Colette about her new favourite)
We've clearly got a massively diverse range of this classic English spirit, and we've barely touched the surface with our options. With others such as Hendricks, Tanqueray Ten & Sipsmith available, we may have made our garnish suggestions, but really it's up to you to come and tell us what you think.
We'll see you for a Grand Gin session soon!